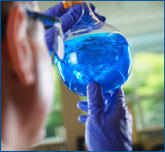 Our market leadership in the organic and inorganic chemical range has been a result of an unwavering focus on innovation. Keeping this aspect as the benchmark of our production and development, we have been serving to the needs of our clients as per their own needs and requirements. We manufacture the chemicals after gaining a complete insight of the industry of the clients. Our professionals are efficient enough to meet their requirements within the stipulated time period.
Our sustainable development is a guiding principle at Triveni Chemicals and an unwavering focus on quality in the chemical industry leads to a complete understanding of environmental concerns and the need for a viable environmental policy. Here are some of our strengths that enable us meet the specific requirement of our clients.
Consistent Innovation
Well-Equipped Research Facilities.
Use of advanced simulation software
Strong Environmental Safeguard Policies.
Enhanced Product Development Capabilities.