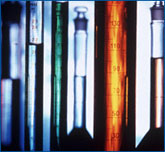 Glass
Triveni Chemicals is looking forward to extend its base in the chemical industry by catering to the needs of various industries including glass industry. The use of chemicals in this industry is diverse as new developments are made at regular intervals. We are one of the leading manufacturers and suppliers of natural soda ash, one of the most common chemicals used in the glass industry.
In addition to the manufacture and supply of soda ash, we also offer the broadest range of grades and densities available in the market. Our research and development team constantly looks forward to new chemicals and advanced chemicals that can be used in the glass industry.
Electronics
We are one of the leading producers of quality ammonium, potassium and sodium persulfates, used in the cleaning and preparation of printed circuit boards. We are engaged in the supply of high purity Hydrogen Peroxide to the electronics industry.
Dyestuffs
We are one of the leading manufacturers and suppliers of high quality organic and inorganic chemicals that include disperse dyes for synthetic fibers such as polyester and nylon, and reactive dyes for natural fibers such as cotton and wool. Apart from them, we supply some of the finest chemicals especially for dying and they include- Ammonium Acetate, Sodium sulphate, Zinc Acetate.
Cleaning Compounds
We have been delivering the highest level of performance for cleaning compounds. We are considered as the leading supplier of alkali products sold to the cleaning compounds market. We have been offering the highest quality products to both the home laundry and industrial & institutional cleaning compounds markets. Our Alkali Chemicals are widely used as cleaning chemicals in various industries.
We manufacture and supply natural soda ash that is used in a variety of laundry and cleaning compound formulations. Our light density and Absorpta Plus grades and sanitizers have been in wide demand.
Paper
We manufacture and supply Hydrogen Peroxide that is known as a versatile, clean and environmentally friendly bleaching agent that is used to brighten chemical, mechanical and recycled pulps. This chemical is also used as a treating agent for wide range of mill pollutants in the waste stream. We also supply Persulfates and Peracetic Acid that are economical and environmentally friendly alternatives to chlorine treatments.
We deal in Soda Ash that can provide cost benefits over caustic soda, whether in the pulping process or in the neutralization of effluent streams. We supply a variety of paper finishing resins, including melamine resins, urea resins, modified-polyamides, and fluorine resins, which are one of the most intensively used chemical in paper-milling processes to increase the wet-strength of paper. They are also used to improve the water resistance and print ability of coated paper.