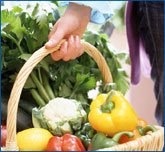 Our chemicals are widely used in the food and beverage industry and mainly as food additives. Factory-made foods have made chemical additives a significant part of diet. This is one area that people are really concerned about because it is related to health directly. We take care of the concerns of people and hence ensure tha the chemicals used in the food products are safe and properly tested.
Triveni Chemicals
manufactures and supply organic and inorganic chemicals that are completely safe to use and in most of the cases, good for health. Our additives have several benefits as they are ideally used to avoid sodium nitrite, saccharin, caffeine, olestra, acesulfame K, and artificial coloring. Not only are they among the most questionable additives, but they are used primarily in foods of low nutritional value. Our additives are safe and some even increase the nutritional value of the food.
There are several processes where chemicals are used for beneficial purposes. Here are some of the reasons for which our chemicals are used in the food and beverage industry.
Preservatives help food remain fresh and they prevent spoilage by controlling bacteria, mold, fungi, yeast or chemical changes.
They are used as nutrients in order to maintain or improve the nutritional quality of food. For example, vitamins and minerals are added to many common foods like milk, flour, cereal and margarine to add to the total nutrition content for people lacking in any particular element.
Our chemicals are widely used in processing aids that make food products and beverages better by improving the consistency, providing body, adding stability, helping oil and water mix, and preventing lumping.
Our chemicals are used as flavors complement that magnify or modify the taste and aroma of a food. These can include spices, flavor enhancers, natural and synthetic flavors and sweeteners.
Colors are one aspect where chemicals are widely used that give foods a desired, appetizing or characteristic color.
Our chemicals are used as-
Antioxidants
: Our chemicals are used to retard the oxidation of unsaturated fats and oils, colorings, and flavorings.
Cheting Agents
that are used to trap trace amounts of metal atoms that would otherwise cause food to discolor or go rancid.
Emulsifiers
: Are widely used to keep oil and water mixed together.
Flavour Enhancers
: They are pure chemicals that do not cause harm to health. They have little or no flavor of their own, but accentuate the natural flavor of foods. They are often used when very little of a natural ingredient is present.
Thickening Agents
: They are basically natural or chemically modified carbohydrates that absorb some of the water that is present in food. This process makes the food thicker. Our thickening agents "stabilize" factory-made foods by keeping the complex mixtures of oils, water, acids, and solids well mixed.
Some of the key applications of our food chemicals in food and beverage industry are: